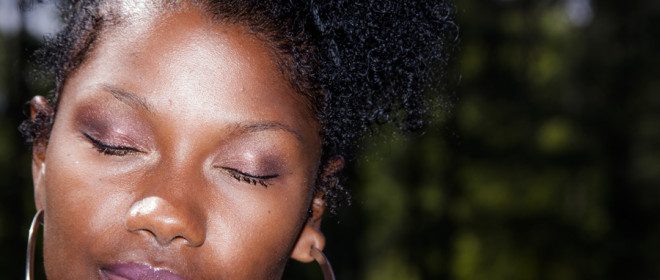 Sunlight finds RaeOfLite.
When she would turn or move, you would think that the sun turned and moved with her. The earthbound sista who is always down for the cause is a guiding light of inspiration. RaeOfLite is a muse and its evident on the day she pensively poses on the wood rails of a gazebo looking over a lake whose very presence is designed to be hidden from roaming eyes. And as thirty-foot tall trees reached for the sky, RaeOfLite's eyes would follow their thrust to the heavens; that is when she was not looking into the camera. When she peers into the lens she portrays the glamour of America Next Top Model. But in those moments when she basks in the sun or appears to be lost in a singular thought, you see it: the spirit of the revolutionary.
This rebel afrosensual is the earthSista whose down for the cause. She is that Tupac diehard who fights for the reunion of the black family worldwide so that she fight the police. Yes, behind those eyes of this demure and beautiful young woman is the soul of a revolutionary.
She is a RaeOfLite.

The Afrosensual Aesthetic is the GardenVoice that pushes the limits and deepens the perspective. It is still be done from a perspective of respect, pride and joy, but here we will be able to explore themes that don't quite fit within the earthSista box. Its is a place for the sensual lovermakers and the premium cultivators. Check it out and share your thoughts and ideas and passions.