Vincent here and I just wanted to take a moment and vent. Just a moment and I am thankful to Tafakari for allowing me to do so on her dime.
A lot of politicians and right-wing sycophants are grabbing for political power by demonizing Islam. Conservative Americans are making an issue of building a mosque a few blocks from the place where 9/11 occurred. It not the brightest idea to build there, I think, in these trying times of economic depression and prejudicial fears. And if it stopped there, MAYBE (and just maybe) it would not be so bad. But it doesn't stop there. Muslims are getting push back everywhere. They are having difficulties building their houses of worship all over the country. And why? Because the Muslim equivalent of the Ku Klux Klan committed an act of terror that was designed to tear down the fabric of liberty in this country.
And Conservative America is helping them do it.
They don't make the distinctions between Muslims and Jihadists. And in the process they lay the foundation for the persecution and restriction of the freedom of religion. They depend on us to follow their every word and give them the power to make us safe.
And they can't.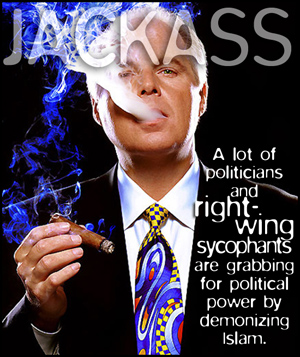 They can't because Conservative America gives the Jihadists EXACTLY what they want. Jihadists want us to persecute the Muslims in this country. They want us warring in their lands. The Jihadists want us playing the role of the White Devils they make us out to be so that they can gain power over their people who will look to them, the Jihadists, for safety.
And we give it to them. Jihadists make us afraid so that we will curtail our own freedoms and put the lie to the liberties we proudly we boast we have. Ignorant talk show hosts weave half-truths for the masses and we give away our freedoms by  curtailing the rights of others whose voices don't have airways and whose faces most of us never see. It is SO easy to call a man you never meet a Devil.
But think for a minute, what it would be like if we lived up to the promise we make? We would make the distinction between a truly peaceful Muslim and an Islamic Jihadist the same we would make the distinction between a peaceful Baptist and a Christian neoNazi. We would embrace that Muslim the way we embrace that Baptist and incarcerate the Jihadist the way we do the neoNazis (we do jail the neoNazis these days, right?) Isn't this what soldiers are doing in Afghanistan and Iraq? They have to know the difference betwee the Muslims they are defending, the Muslims who have their back and Islamic terrorists who are their enemy.
This isn't North Vietnam and we are not at war with nations. We are embattled with the charismatic leaders of individuals with vulgar and barbaric interpretations of their religion. They don't hold political offices, they don't command armies with tanks. And they don't command the faithful: only the lost.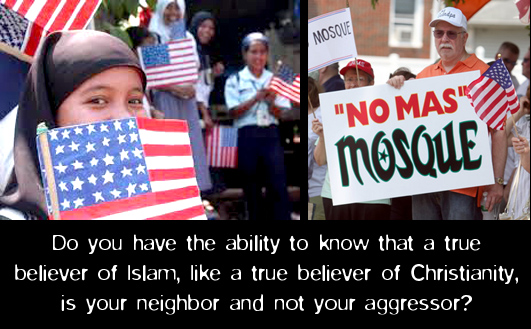 Liberal America, Progressive America, Democratic Politicians are all afraid to make that distinction because they think you will assume that they are collaborating with the enemy. Are they right?
Do you have the ability to know that a true believer of Islam, Iike a true believer of Christianity, is your neighbor and not your aggressor?
Do you know that a Muslim has about as much in common with a Jihadist as a Christian does with a neoNazi?
If you know this, would you share that knowledge with the folks in the cafeteria, at the watercooler, on the stoop, in the neighborhood or at the church?
Would you share this with your family?
Do you even believe there is a difference? Or are you afraid to know and you want Rush Limbaugh and Glenn Beck to keep you safe?
What do you think?
-Vincent
Related Posts :



Leave a Reply
You must be logged in to post a comment.