Posted by Makeda Voletta in
Makeda's Musings
on 10 28th, 2010 |
no responses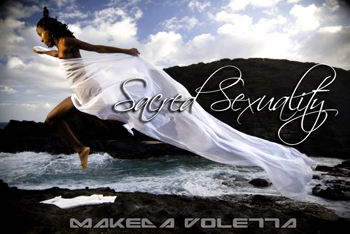 This is part 3 of my Sacred Sexuality Series. I have so much to say, just talking off my dome. No prepared notes or anything and there are so many connections to be made. My name is Makeda Voletta and I study the body. I am an Exercise/Sports Scientist, Sports Nutritionist which are both geared towards increasing high level performance. I am also a trained and professional dancer (currently performing and studying dances of the African Diaspora – specially Congo derived), freelance journalist, freelance Fine Art Model and a Sacred Sexual Educator. I have been involved in Sexuality Education since grade school. I use a variety of tools to conduct research and collect observations. I use my own body for research along with primary documents, arts, and the written and the spoken word.








A freelance fitness/swimsuit and fine art model, Makeda Voletta is a trained and professional dancer in a variety of dance styles from the Carribean, South America, North America and Africa. She is a dedicated student of the body and all of the methods involved with bringing the body to it's highest level. Makeda has a B.S. in Exercise and Sports Science with a concentration in Strength and Conditioning and a minor in Nutrition. Having completed two years of graduate work at Columbia University in Applied Physiology and Nutrition as well as plenty of self study, Makeda is a self-proclaimed body science nerd.







Leave a Reply
You must be logged in to post a comment.