Posted by vincent in
What's Going On?
on 10 4th, 2011 |
one response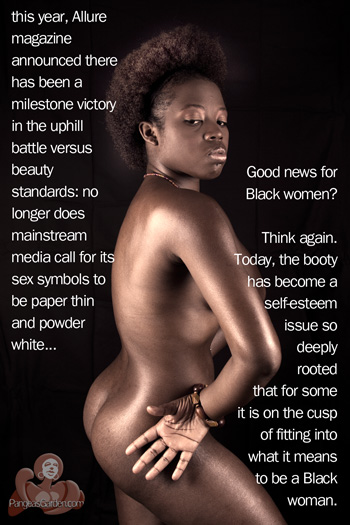 By Shannon T. Boodram
of Sway Magazine
Until recently, wide hips, thick lips and solid derrieres, common among many Black women, were passed over and deemed unworthy of even an honourable mention in the working definition of beauty.
But this year, Allure magazine announced there has been a milestone victory in the uphill battle versus beauty standards: no longer does mainstream media call for its sex symbols to be paper thin and powder white. Instead, juicy-lipped, curvy ladies like Kim Kardashian and Jennifer Lopez have taken the lead.
Good news for Black women? Think again. Today, the booty has gone from a fixation to a cultural punch line to a self-esteem issue so deeply rooted that for some it doesn't just mean fitting into jeans, it is on the cusp of fitting into what it means to be a Black woman.
"Growing up, I was always naturally skinny," says 22-year-old Eileen Bailey who recently moved to California to attend university. "I honestly didn't feel like I was Black because I didn't have the hips and ass to go with my brown complexion."
Bailey, who is half Black and half Filipino, grew so tired of her peers pointing out her "Asian assets" that she is ready to book an appointment for a Brazilian butt lift where fat from undesirable love handles or the tummy is removed through liposuction then repositioned into the butt.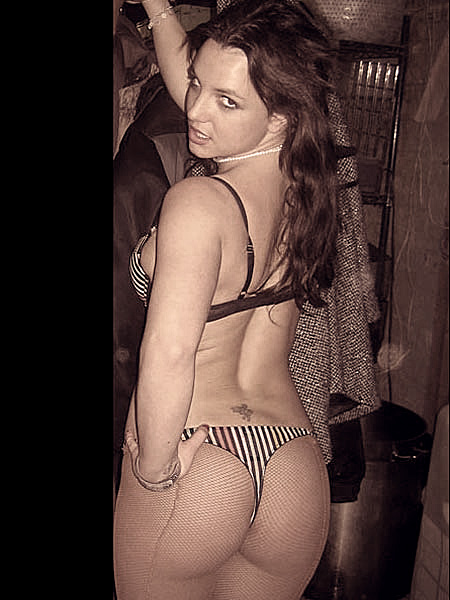 Though this procedure is not guaranteed to provide clients with the desired results, since the body may reabsorb and naturally redeposit the fat, it is still the most popular butt enhancement procedure according to Brazilian Butt Lift Toronto, a division of the Plastica Cosmetic Surgery Clinic.
The 36-inch bust, 26-inch waist and 36-inch hip female came in demand in the urban music industry during the late '90s hip-hop era and has since practically become a requirement for any Black female looking to make waves as a sex symbol. But the most recent nod from mainstream media has solidified in many women's minds that failure to fulfill the fantasy immediately eliminates them from being eligible to compete with the women who do.
Artists like Britney Spears and Katy Perry, who used steroid-infused injections to pump up the volume in their behinds, have admitted to having body contouring and butt augmentation. However, since Black women are expected to have the hourglass figure and apple bottom, getting Black celebrities to admit the same has not been easy.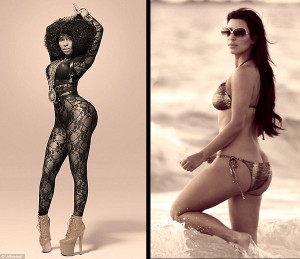 Despite ample, incriminating (before-stardom) pictures of Nicki Minaj in which her backside looks noticeably less cartoonish, she still insists it is completely natural. Video vixen turned rapper Angel Munroe also took years before finally admitting what everyone already knew: the butt that made her thousands of dollars as a model, cost her $14,000 on a surgeon's table. That is a hefty price to pay for something that women were once told to work off.
But as Bailey explains, the extra boost is worth its weight in gold: "I feel like Black guys don't want me because I am not what a Black girl is supposed to be," she says. "Yes, there is some guilt and shame associated with getting any kind of cosmetic surgery, but I want to feel good when I put on clothes and I want to feel like I am enough when I take them off to get intimate."
We have all been in the gruelling battle against beauty standards and this latest trend is a good indication that we won't see white flags from either side in the foreseeable future. Can't help but point out the irony on this one though: Even when Black women are able to expand the prototype, it gets twisted and somehow comes back to bite them in the ass anyway.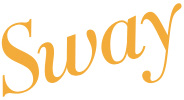 Reblogged from swaymag.ca
Sway is the premier lifestyle magazine for African and Caribbean Canadians. Its mission is to entertain, empower and educate, with a voice that reflects the successes, accomplishments, and pride of Canada's Black communities. Swaymag.ca is updated daily and is Canada's online destination for African and Caribbean Canadians.
More contributors, more visions, more voices… Pangea's Garden is growing. As a result, this labor of love requires a great deal of time and expense. We are actively striving to be your Afrosensual nexus of ideas, images, commentary, participation and events that inspire, provoke, entertain and actively engage you. So consider signing up for a premium membership. It grants you access to ALL of the Garden's content and you will be one of the Cultivators of the vision that we've ALL planted & grown in Pangea.

Related Posts :



Leave a Reply
You must be logged in to post a comment.