words from Azmera HarvestGirl…
"Azmera is Amharic and come from the country Ethiopia.
It means harvest and this is part of my Harvest!!"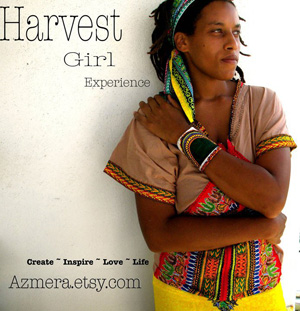 "I love to be inspired by all things life and I love to take that and continue the process by inspiring others."
"I was inspired to sew about 3 years ago and have been a supporter of etsy for about 2 years. I was encouraged by loved ones feb 08 to start my own etsy… and here we are."
"I put alot of love and energy into my creations and hope that you love it as much as I do. Everything I created and sell I would wear it myself. I would never give to you anything that I do not love love love and from that love I can only hope that you love it as much as I."
"It was a wonderful funnty joyful day with the earth sisters of Pangea's Garden. ~ Giving Thanks for this beautiful blessings~ much more creations inna works! thank all of you for the continuous inspiration~please be inspired in return!"
Vivid, joyous color that is culturally festive; that is the memorable impression of Azmera's designs. HarvestGirl has an extraordinary collection on estsy.com; make sure to check it out because these images are a very small sampling of what she has available.
Meeting Azmera and creating images of the earthSistas adorned in her designs was truly a joy and I hope to do it again real soon! (hint, hint, Azmera!)
-Vincent

Related Posts :



Leave a Reply
You must be logged in to post a comment.