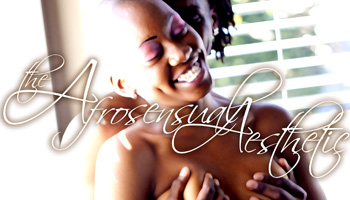 His tongue tastes her nipple… strong black hands embrace her ass…. a moment of self caress…
There's a beauty in brown skin. And just as it can be raw and pure it can also be sensual… erotic… passionate. Over these past few months we've explored this aesthetic with an eye towards exalting the pride of the Afrocentric sista's pleasure and appreciation of her own beauty… bare and unabashed. We've, also, celebrated the sistas who have shared their admiration of one another. And while we will continue to do that, its time we stepped out of that box a little bit more.


Streaks of sun kiss his back as he enters her…. Seconds of utter joy as they hold each other…
Its been done here before. With the works of Scottie Lowe's AfroerotiK and Makeda Voletta's Musings, Pangea has shared provocative commentary, pose and images along this line. Now, we open the door for discussion and a lively homage to the pride and artistic beauty of the Afrosensual. It will be racy, sensual, erotic, passionate and very provocative. Intended to solicit thought and exploration, the works here will not be for everybody's taste and that's okay.


Gentle kisses between her thighs while the sista caresses her from the tree…
The Afrosensual Aesthetic will be the GardenVoice that pushes the limits and deepens the perspective. It will still be done from a perspective of respect, pride and joy, but here we will be able to explore themes that don't quite fit within the earthSista box. Its is a place for the sensual lovermakers and the premium cultivators. Check it out and share your thoughts and ideas and passions.


A moment of exquisite joy…
Welcome to the Afrosensual Aesthetic. Welcome to the Garden.
Related Posts :



Leave a Reply
You must be logged in to post a comment.