Posted by vincent in
The Pangea's Garden Project
on 12 15th, 2010 |
4 responses
"When you live your life with an appreciation of coincidences and their meanings, you connect with the underlying field

of infinite possibilities."
Deepak Chopra
That thought fits today. About a week ago, we were all having our weekly Pangea earthSista meeting. And the typical chaos ensued where we there is approx. a dozen men & women having about six ongoing conversations at any given time. It seems very disorganized from the outside looking in but its not. It organic and distracted, sometimes straying away from the path our communal vision, yet always making our way back. The ideas that spring from this process run the range from the  'absolutely fabulous' to 'what were you thinking?' And this one may be a little bit of both
'For Real Tho' : the Ustream audio talkshow of the earthSistas. The beautiful MoEss concepted this idea and earthSista SHE worked with her to get the wheels rolling last week. And this week MoEss, SHE and BlaqButtaphly did this extremely funny, thoughtful, irreverent and provocative live commentary. The earthSistas discuss what's on their minds and they do NOT hold back.  Listen to their maiden voyage into World of Talk and make sure you listen to the LIVE show next Monday at 9pm.
Catch 'For Real Tho' LIVE every Monday at 9pm on Ustream. You can participate LIVE, messaging the earthSistas while they are on air! Check it out at FOR REAL THO!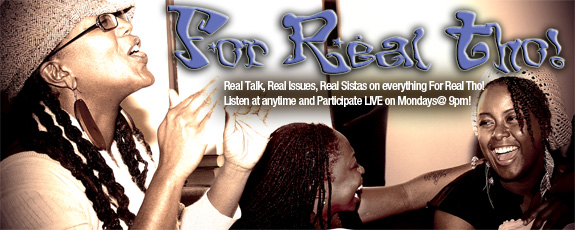 Related Posts :



Leave a Reply
You must be logged in to post a comment.