Posted by Sepia in
The Pangea's Garden Project
on 01 11th, 2011 |
3 responses
Have you ever seen a sista, whether in person or in a photo, and think to yourself, "Yeah, she's definitely going places"? That was my initial thought when I came across Gwen Rakotovao's (pronounced RA-KOU-TOU-VOW) Facebook fan page. I was completely blown away by not only the French-born Malagasy's head-turning natural beauty, but her talents as a dancer and model as well.
She has also dedicated her time and efforts as an ambassador to the Eco-Sys Action Organization (www.ecosysaction.org),  a patron of the French-based Mimoza Mada Sport, and as a choreographer. Her face has graced numerous publications, including a very popular one here in the States. Her goals and aspirations are unlimited. I was very fortunate to have Gwen to do a brief interview with me so I could have a greater insight to this dynamic, globe-trotting woman and why you should know her. This young woman is clearly making a remarkable name for herself.
Sepia: Okay, what is the correct pronunciation of your last name? Is it (phonetically) RA-KO-TO-VOW?
Gwen Rakotovao: Close enough : )
The French pronunciation is: Ra-ko-to-va-o
The Malagasy pronunciation is: Ra-kou-tou-vow
GR: I actually was born and raised in France. My both parents are from Madagascar and at the time they were born, it was a French colony.
I consider myself equally as French and Malagasy.  I was raised with the Malagasy culture in France.
I have 2 cultures and I am proud of it. I just take the best of each.
S: Where do you currently reside?
GR: I live in Chelsea in New York.
S: At what age did you start dancing? Where did you train? What genres of dance are you trained in?
GR: I started ballet at age 3, but first I didn't consider dance as a job…it was my passion. After high school graduation, I trained in a prestigious Jazz Dance School in Paris and few years after I joined the Alvin Ailey American Dance School where I trained in Modern, Tap, Hip Hop.
S: When did you start pageantry and modeling?
GR: I seriously started one year ago and a lot of good things have happened to me. I have competed in Miss Diaspora Models 2009 just for fun but, then I fell in love with the fashion world. The people are fun and creative so I wanted to explore more into this world.
S: What photographers have you worked with?
GR: I have worked with a lot but the ones who're in my mind are Yann Feron, Victoria Janasvilli, and Live Rasoloarison.
S: What magazines and/or publications have you been featured?
GR: I have been featured in many online magazines, newspapers, French Magazine and one of my highlights this year is the Essence Magazine (Hot Hair Issue, Fall 2010). It was just incredible to see my face in this magazine. I am also one of the faces of the Neguswear brand.
S: I see that you are a teacher for a prestigious dance school in France. How did you come across this fabulous opportunity?
GR: It's a prestigious school of my original region. I am pretty well-known over there, so it's the second time I teach master class and it's for my pleasure.
S: Who has been your biggest influence in your career?
GR: I don't really have a role model and I don't have a dancer or choreographer I adore.
This may sound weird. The fact is that everybody can inspire me; a child, a famous choreographer or even a street dancer. I am really open minded and love to discover new ways to dance, so I haven't been particularly influenced by someone or a type of dance. I am a versatile dancer, choreographer and teacher.
If I really have to give an answer, I'll say that my vision of dance is really close to what Alvin Ailey had accomplished.
S: What are your greatest accomplishments?
GR: I can't really tell. If I feel accomplished now, it will be the end. I'm this type of person who (professionally) is rarely satisfied. I always find something I could have done better.
S: What would you tell young black girls interested in following your footsteps?
GR: 3 words: Never give up. Sometimes it's really tough. Dance is always about fighting; pushing the limit being strong physically and mentally. There are many sacrifices. But to be on stage is just amazing.
NEVER GIVE UP no matter what.
S: What are future plans in dance, modeling and/or pageantry?
GR: In dance, I have started my own projects and I am pretty excited about it. I don't want to tell much about it but there's a lot going on and coming up…
In modeling, I am done with pageantry. Miss Diaspora Models was an incredible experience and, to me, it is enough.
I have also received some propositions I can't reveal yet.
Please be sure to become a fan of her Facebook page: Gwen-Rakotovao on Facebook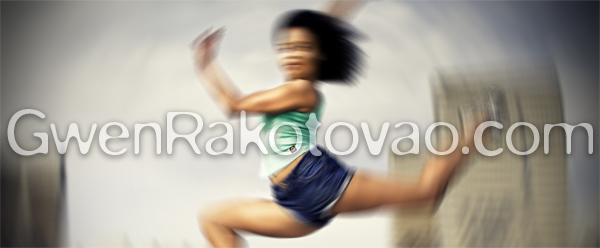 Related Posts :



Leave a Reply
You must be logged in to post a comment.