How will we get through it all?
ATLANTA – The coming weekend is so full of exciting events that no one will be bored and the only problem we will have is which events to attend. They are all centered around the celebrations and commemorations of Happily Natural Day and Black August Weekend. Happily Natural Day (HND) is an african centered business expo, cultural arts and craft trade show, and two day holistic health, cultural awareness and social change conference plus hip hop, soul and spoken word showcase featuring fashion and natural hair exhibitions. The mission of Happily Natural Day is to promote holistic health, cultural awareness and social change in the African American community.
It is imperative to note we commemorate Black August, not celebrate it. We don't want people to think that it is a party or just an event. Black August is about resistance. Black August was a response to the need of Afrikan prisoners to form a principled and effective political unity to combat the racism and genocide against Afrikan people behind the walls. People who want to observe Black August are encouraged to work out an exercise routine for each day either individually or in groups and to not use any drugs or alcoholic beverages during the entire month.
Did I leave anything out?
Friday August 17th:
Nobella's TRUNKSHOW featuring the Creative Culture Collective Family Reunion
8PM to Midnight – $15
House of Blended Ink HOBI
431 Fair Street SW, Atlanta, GA 30313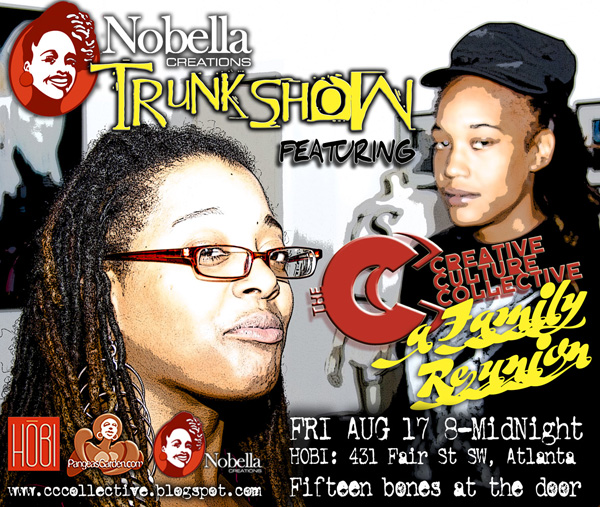 Friday August 17th:
Lens of Life & FTP Movement Presents… The Royal Affair Art Show
7PM to 10PM – Free Admission
City of Ink
323 Walker St., Atlanta 30313
Photos by Ree Swa
Music by DJ 4th Wurld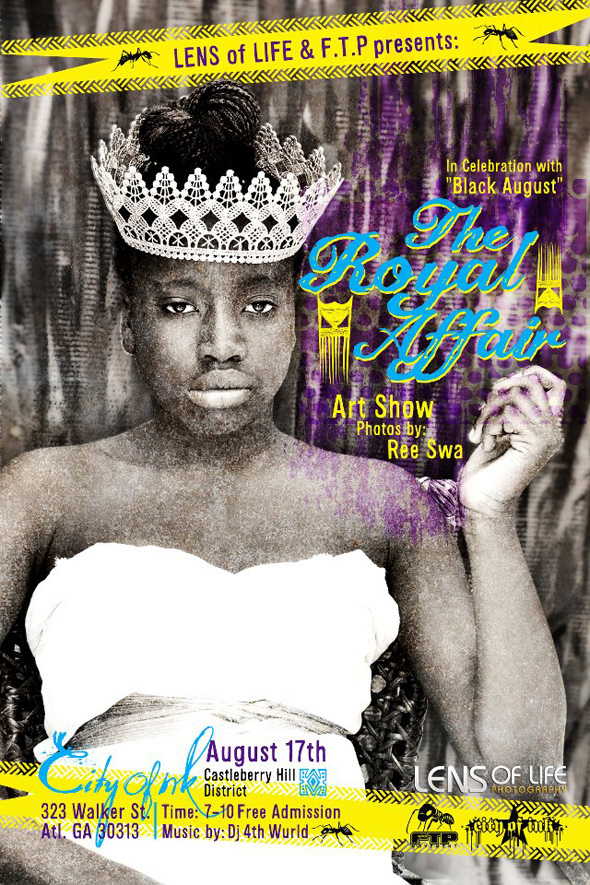 Saturday August 18th:
Happily Natural Day Festival (Indoor)
Noon to 7PM – Free Admission
South Cobb Recreation Center
875 Six Flags Drive, Austell, GA 30168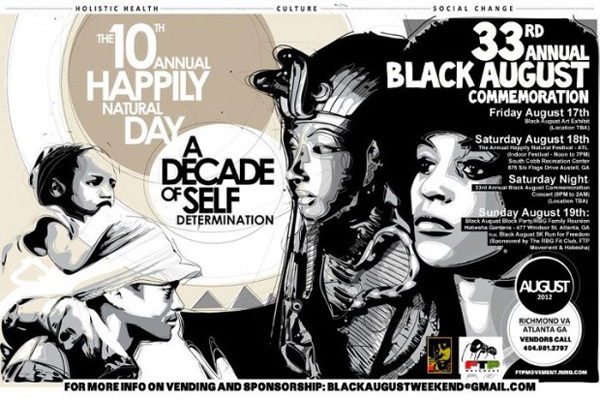 Celebrating its 10th year of existence, Happily Natural Day, the nationally recognized festival out of Richmond, Virginia, will be rocking again in Atlanta adding an extra dose of flavor to The Black August 33rd Anniversary Weekend. Happily Natural Day is a powerful summer festival dedicated to holistic health, cultural awareness and social change. Some past guests that have participated in Happily Natural Day include: Queen Afua, dead prez, Ashra Kwesi, Dr. Llaila Afrika, Phil Valentine, Del Jones, Runoko Rashidi and more.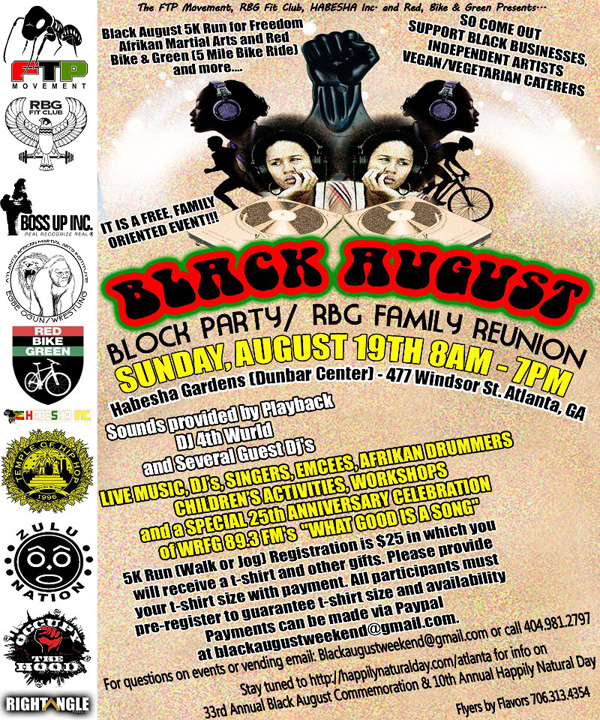 Saturday August 18th:
CREW LOVE: 33rd Annual Black August Commemoration Edition
9PM to 2AM – $10
Pal's Lounge
254 Auburn Ave. NE, Atlanta, GA 30303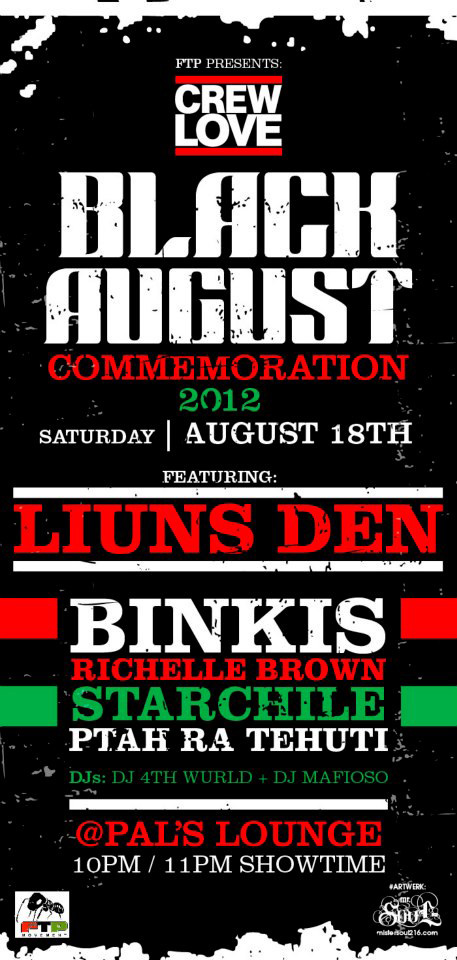 RBG Fit Club, Red Bike & Green, HABESHA Inc., and the FTP Movement Presents…
Black August Block Party and 5K Run for Freedom
Habesha Gardens – 477 Windsor St. Atlanta, GA
8AM to 7PM – $25 for 5K Run, Free Admission to Block Party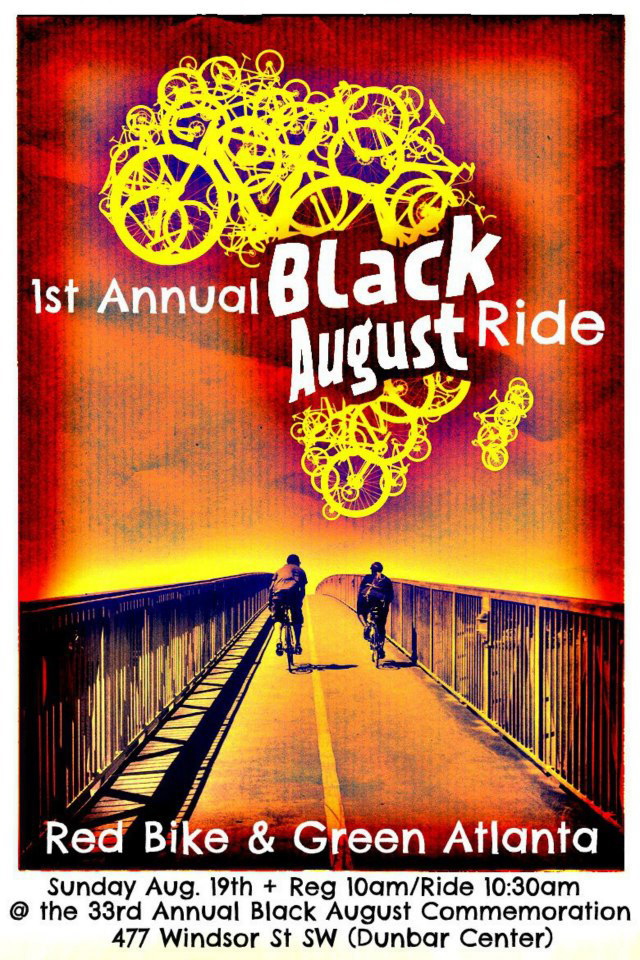 More contributors, more visions, more voices… Pangea's Garden is growing. As a result, this labor of love requires a great deal of time and expense. We are actively striving to be your Afrosensual nexus of ideas, images, commentary, participation and events that inspire, provoke, entertain and actively engage you. So consider signing up for a premium membership. It grants you access to ALL of the Garden's content and you will be one of the Cultivators of the vision that we've ALL planted & grown in Pangea.