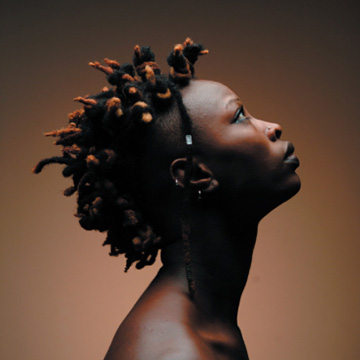 From Dynamic Africa
Grammy Award-winning and World Music-nominated Ivorian musician and singer Dobet Gnahoré's style is beyond your wildest Afro-punk dreams.
With a band consisting of her percussionist father Boni Ngahoré, as well as several French and Tunisian acts, both the singer's musical sounds and aesthetic mirror various elements of Pan-Africanism that can often be seen in the jewelry she wears and the infusion of Bété, Baoulé, reggae, rumba and Manding influences in her music.
Dynamic Africa strives to be a multi-media information sharing curated blog that aims to function as a diverse platform for all things African and/or African-related (i.e. Diaspora) – from the classic to the contemporary. It is a an excellent blog run by a 24-year old student, based in Cape Town, South Africa. He is from Lagos, Nigeria.


Pangea's Garden continues to grow. We are actively striving to be your Afrosensual nexus of ideas, images, commentary, participation and events that inspire, provoke, entertain and actively engage you. If you love what you see here and desire to see more, please consider signing up for a premium membership. It grants you access to ALL of the Garden's content and you will be one of the Cultivators of the vision that we've ALL planted & grown in Pangea.