Sindel
I am going to be bold and say that I feel like the Garden became a "kinda-sorta" active website for awhile I felt Pangea's Garden had lost it focused to cultivate. The weeds were dried out, and the water  began to evaporate. But the Gardener had faith in one particular seed. With a little persuasion, and much hope, the Garden secretly manifested exotic beauty among the most exotic women of Pangea. One thing we truly keep our focus on is expressing ourselves and our natural beauty. From the kinks in our hair, to our bodacious curves. We refuse to let society wipe us of who we are. Perms, sew-ins, contacts, bleach won't tear us from our gorgeous existence. To promote our Afro-sensuality and self-esteem is what we aim for in our society. This year, we want to give you not only great images, but us. We are art, and one of the greatest works ever  created. Thus, this year, we welcome you subscribers and lovers to our site. New faces, great culture, and awesome images.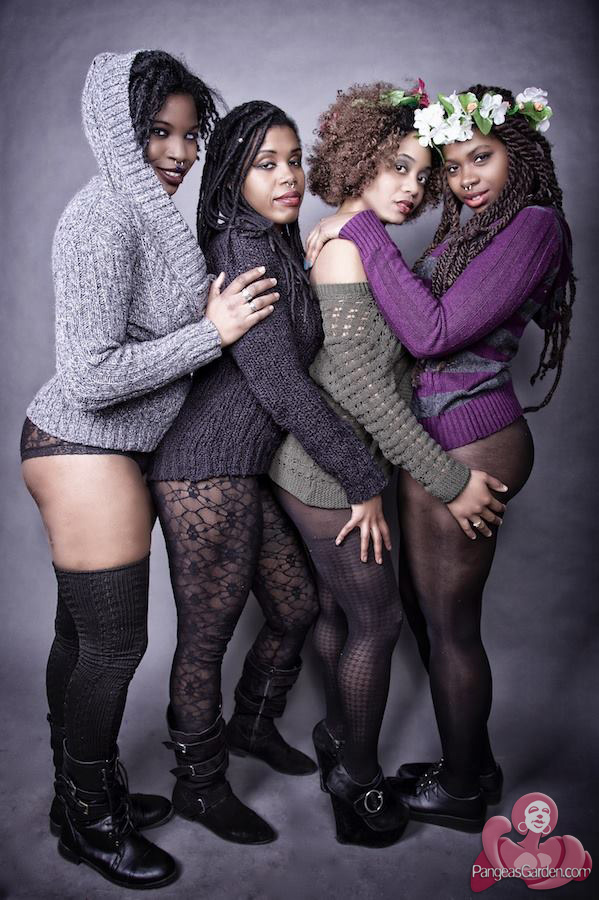 I took my first steps into the Garden last year and now I, along with these friends of mine will have a little fun exploring and sharing the culture that cultivates the beauty that is uniquely ours. Last month we I came up with the idea of simply using sweaters as a theme. Working with photographers Vincent C.  and Bobby Williams of WillowBMedia, I and my earthSistas (current and upcoming) had a few shoots and created these works. This is our set from the shoots   at Atlanta's Goat Farm Arts Center. I hope you all are liking this, because I am having a blast!  


When it comes to art, food, fashion, health, fitness music, culture and society Pangea's Garden continues to bring you the culture that cultivates. We actively strive to be your Afrosensual nexus of ideas, images, commentary, participation and events that inspire, provoke, entertain and actively engage you. If you love what you see here and desire to see more, please consider signing up for a premium membership. It grants you access to ALL of the Garden's content and you will be one of the Cultivators of the vision that we've ALL planted & grown in Pangea.

Pangea's Nature Stroll Series… The moments are unique and timeless. There is a symphony of scents and sounds as well as visions that intertwine to create and extraordinary body of stimuli. When you are there, you can't help but be inspired by God's design. this was the backdrop for the beautiful women who have all taken part in this extraordinary rich series of images that are still never ending. Momentary strolls that were reflective, imaginative, provocative and creative led to some revealing moments in which beauty both inside and out was exposed.