All of the images are raw. No touch ups. I seek to bring the wisdom of the Dark Moon Goddess, the Sun Goddess, Bee Priestesses, and all of the Powerful Amazons who come before me. I walk with the power of my ancestors. It's all about being true and free. Nothing else matters at the end of the day.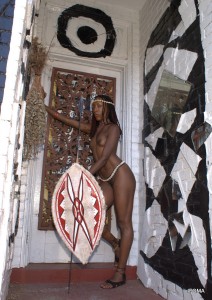 Featured Photographers: Jan – Ondre Hunt, Philly Feb – Ron Ceasar, Washington, DC/Baltimore March – Andy C. and Irina Sarnetskaya, NYC (from left to right) April – Vincent Christire, Atlanta May – Irina Sarnetskaya, NYC June – Ondre Hunt, Philly and Frank, Bronx, NYC (from left to right) July – Joe Wesley, Miami August – Ondre Hunt, Philly September – Ron Ceasar, Washington, DC/Baltimore October – Andy C., Washington, DC November – Ifoma Stubbs, Detroit, MI December – J. Mosely, Philly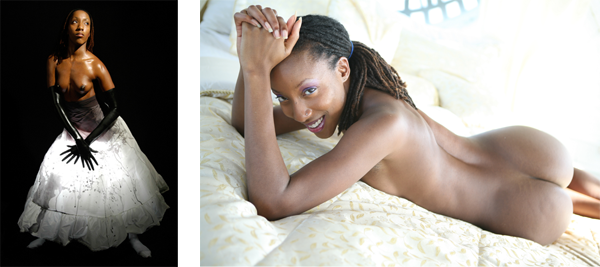 Reviews on her previous calendars:
"This large and richly designed calendar is a work of art. A combination of beautiful landscapes, creative photography, and lovely words and images makes checking the days, weeks, and months a sensual experience. It's a sophisticated presentation of a strong, attractive woman, who also displays her philosophical and spiritual sensibilities from the first page to the last.

If a beautiful female form, nude and semi-nude, in lush settings and creative poses are all you desire, you can enjoy this work on a more primal level. Dig a bit deeper, though, and you may learn a thing or two about love and sex, the Tao, and the power of women. At its core this calendar celebrates its creator, producer, and model, Makeda Voletta in a most desirable way. She invites you to experience physicality and movement, relaxation and passion, while displaying her strength and unique brand of femininity throughout."
"Sensual Warrior Calendar-
This calendar went above and beyond any preconceived notions I had from the preview. Contained within is a gorgeous feast of words and imagery in honor of our Mother Earth (and the female form) that hums with feral sensuality, each picture possessing a raw physicality that crackles with vibrancy right off the page."
"'Queen of queens' Sensual Warrior is beatiful work of art and a daily source of enlightenment for me. It satisfy my thirst for knowledge of our ancestors and my love of the Queen Goddezz, Makeda."

More contributors, more visions, more voices… Pangea's Garden is growing. As a result, this labor of love requires a great deal of time and expense. We are actively striving to be your Afrosensual nexus of ideas, images, commentary, participation and events that inspire, provoke, entertain and actively engage you. So consider signing up for a premium membership. It grants you access to ALL of the Garden's content and you will be one of the Cultivators of the vision that we've ALL planted & grown in Pangea.