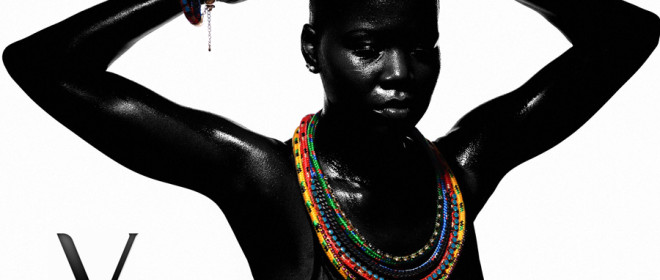 Did anyone see these images last year?
I happened upon one of them on Pangea's tumblr page a few weeks ago and I had to see the rest. Photographer Mike Quain and Creative Directors Melody Ehsani and Ashly Ludwin worked together to create these extraordinary captures featuring Melody's creative jewelry designs adorning singer Veronika "V" Bozeman. V first appeared in the Garden through her provocative video duet with Timothy Bloom in "Til The End Of Time." Los Angeles Fashion designer Melody Eshani's Spring 2011 collection decorated her fingers and neck in this stunning set of photos.
Clutch Magazine had this to say: "Each oversized statement piece boasts innovative shapes and eye-catching colors that make it more like wearable art than a mere accessory. Larger-than-life studs and ethnic-inspired necklaces make this collection more abstract and imaginative than previous offerings." Indeed, this particular collection was especially noteworthy for it's broad pieces, bold colors and ethnic feel.
What do you think?