We've been hosting a photography meet-up called Pangea's Shooters Lounge since April. It is the social shooting event that allows Pangea's photography community to network, cut loose and create creative and quality images. We push the envelope, break the mold and redefine what others think of beauty, art, glamour. Join us and you are in for an opportunity of sensually artistic interactive experiences designed to provoke, inspire and arouse you. Our friends at Apache Cafe have been kind enough to host our activities throughout the Summer. Recently, however, Pangea retained a studio space for creating images and meetings as well any other activities we would like to do. It's in the West End section of Atlanta which was the inspiration for the roots of Pangea's Afrosensual Aesthetic. It's a modest space; intimate. A few weeks ago we poled the followers of our Facebook social group (Pangea's Afrosocial on Facebook) in which we our Shooters Lounge participants where they would like to meet up for our next event and, overwhelmingly, they chose our modest little workspace, so…
The earthSistas from Pangea's Garden are hosting an intimate shooting opportunity for our friends in front and behind the camera. The theme is HIS SHIRT and it will be held at Pangea's new studio in Atlanta's West End. It is a seductive, intimate, exhibitionistic studio session with lights and props. While there will be earthSistas on hand to pose, feel free to come out, put on HIS SHIRT and step in front of the camera if you are so inclined. MUAs, STYLISTS, DESIGNERS are all invited to come out and play. MODELS AND POSERS – If you want to jump in front of the camera, please do. If you do not have HIS SHIRT we can can provide one for you. PHOTOGRAPHERS AND VIDEOGRAPHERS – Feel free to bring your own for you own props and setups and have some fun in Pangea's new space.
TULA, SEVEN and CRYSTAL are earthSistas who will be hosts and featured muses for the event and while they will be posing, we are inviting all who are interested in putting on HIS SHIRT and jumping in front of the camera to do so. I met with each of them to create some preview images based on the theme and while I had fun doing it, I am eager to see how other will approach the theme.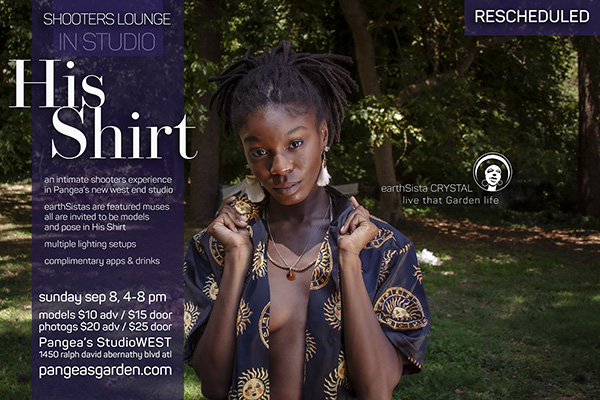 IT'S AN OPEN PHOTOGRAPHY SESSION AND KICKBACK
The Shooters Lounge is a photographers' AfroSocial. It's the opportunity to chill, eat, drink, socialize and network in between shots. Pangea's Garden will provide some light appetizers and drinks. Feel free to bring your own props and lights to add to the experience! It will be a dynamic event where your photography will reflect your unique perspective of this creative, collective collaboration. Photographers are HIGHLY encouraged to share their images with the earthSistas and the patrons who join in the experience.
Doors – 4P | Shooting start at 4:30P
Models: $10 for advanced tickets | $15 at the door
RSVP tickets for Models via PalPal: https://tinyurl.com/y45j9by8
Photographers: $20 for advanced tickets | $25 at the door
RSVP tickets for Photographers via PalPal: https://tinyurl.com/yxfmvbnj
Let the afrosensual arouse, provoke and inspire you.
Join our online community at https://pangeasgarden.com/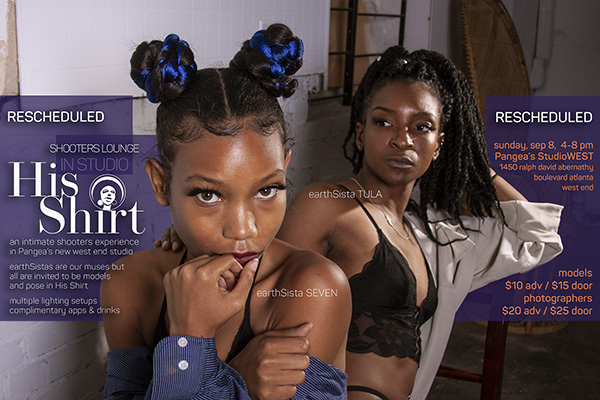 When it comes to art, food, fashion, health, fitness music, culture and society Pangea's Garden continues to bring you the culture that cultivates. We actively strive to be your Afrosensual nexus of ideas, images, commentary, participation and events that inspire, provoke, entertain and actively engage you. If you love what you see here and desire to see more, please consider signing up for a premium membership. It grants you access to ALL of the Garden's content and you will be one of the Cultivators of the vision that we've ALL planted & grown in Pangea.

The Afrosensual Aesthetic is the GardenVoice that pushes the limits and deepens the perspective. It is still be done from a position of respect, pride and joy, but here we will be able to explore themes that don't quite fit within the earthSista box. Its is a place for the sensual lovermakers and the premium cultivators. Check it out and share your thoughts and ideas and passions.