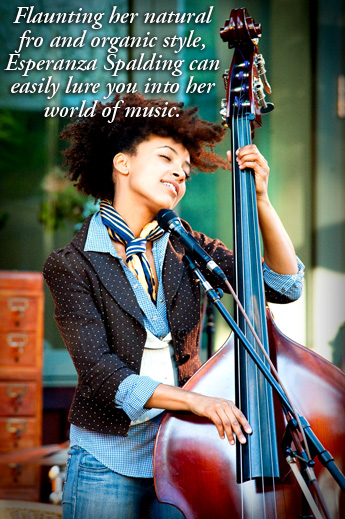 During a time when music seems to be clouded by "studio magic" and the next big "product", we hardly find an artist that embodies ART and creative expression as true music lovers know it.  Esperanza is the Spanish word for hope and Esperanza Spalding is a prodigy and pioneer for hope to all genres of music with her authentic talent.
Flaunting her natural fro and organic style, Esperanza Spalding can easily lure you into her world of music.  She is 25 years old with a career that started at the age of 4.  Her love and desire for music is evident through her track record.  Esperanza paved her way to a spot in The Chamber Music Society of Oregon at the age of 5, enrolled in a program of study at Portland State University at 16 and became an instructor at the renowned Berklee College of Music at the age of 20.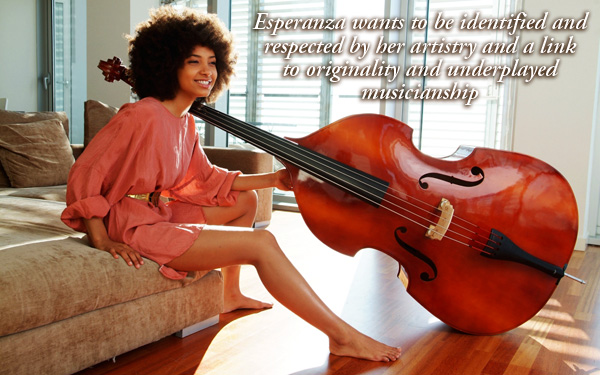 While on this journey to her first album in 2005, with the release of Junjo; Spalding could be seen on a variety of scenes to include hip-hop, classical, funk, blues and indie rock.  She has proclaimed her desire to never be limited to a particular genre and does not want to be known for her sex appeal.  Instead, Esperanza wants to be identified and respected by her artistry and a link to originality and underplayed musicianship.  Being a lover of all music, I can appreciate her devotion to where it all began with her latest work entitled, Chamber Music Society.  This lyricists, songwriter, composer, vocalist and bassist transcend any artist that I have ever experienced and I am sure you will be captivated by her natural beauty, graceful presentation and rare talent.
\