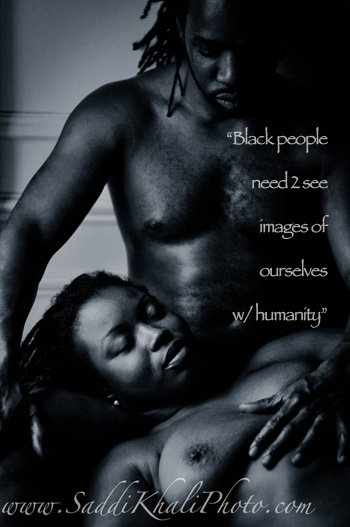 Black people need 2 see images of ourselves w/ humanity.
"i believe art can change the world. let's make a difference. i'm tryna do work that looks like no other. i've done magazines, album & book covers, but my current passion is fine art."
women beautiful regardless of size, shape or complexion. men strong, sensitive & loving. parents & children caring & happy. couples in love in warm intimate moments. us as lovers, sensual & sexy but not nasty even when we're nasty. this is not 2 say that other folks dont need 2 see themselves in certain ways. but, i dont know those ways. i DO know how my folks r being fooled by & misrepresented in arts & media. & i DO know how its affecting us. so, all the work i do is in the intention of combatting that. i've been considering lately doing images of other folks, i can say they r not my immediate priority, tho.
"i'm currently workin in natural light. god's illumination on Black skin is magnificent 2 me."
Too often we see ourselves through a filter that does not celebrate us. We are told that we are made up of flaws. Saddi Khali shoots with the perspective that we are made in The Creator's image and The Creator does not make flaws.
The Saddi Khali is a nationally respected New Orleans-born poet, performance artist, and photographer. He has worked for the last 20 years to blend the most effective mix of art and activism. As a critically acclaimed poet, his writings have been published in numerous national journals and anthologies, including Dark Eros, Beyond the Frontier, and Be a Father to Your Child. As a performer, Saddi has been featured on HBO's Def Poetry Jam. For two years, he also toured nationally with the traveling theater experience, UPROOTED: The Katrina Project. Most recently, Khali's photography has been featured in ESSENCE Magazine and on the cover of the Random House book, Triksta and the instruction book, The Naked and The Lens. He has exhibited his images across the U.S. He is currently completing his debut coffee-table book, The Look of Love, on Runagate Press. Khali is the founder of Medicine Media, a non-profit organization created to develop and promote culturally competent images of people of color through the strategic use of art and media.

The Afrosensual Aesthetic is the GardenVoice that pushes the limits and deepens the perspective. It is still be done from a position of respect, pride and joy, but here we will be able to explore themes that don't quite fit within the earthSista box. Its is a place for the sensual lovermakers and the premium cultivators. Check it out and share your thoughts and ideas and passions.