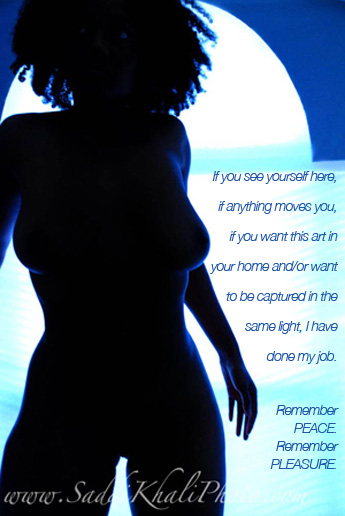 Saddi Khali
Too often we see ourselves through a filter that does not celebrate us. We are told that we are made up of flaws. Saddi Khali shoots with the perspective that we are made in The Creator's image and The Creator does not make flaws. Let Saddi Khali turn you into art. Treat yourself to his organic approach to photography. Unleash your own unique and personal beauty. Disregard the limits of size, shape, height, complexion, etc. and document the therapeutic occasion. More than just "pictures," Khali's sessions are best suited for the clientele who seeks to be reminded of their beauty, their magic, their power.
"I use these photographs as dream-boards to represent a communion with the Spirit, comfort with ourselves, harmony with our surroundings, and the gifts and beauty we pass and overlook everyday."
Let's see ourselves beautiful again!