Pangea has hosted an AfroSocial-style event since November 2013. Originally based on Atlanta's Apache Cafe's ArtMonday event, it has, organically grown to represent the Afrosensual experiences that Pangea's community celebrates. It has been Artists' Model event, a Photographers' Super Shoot, a simple kickback, an afro-erotica workshop among other things; always exploring what afrosensuality really means. We've missed the mark on some days and created legendary experiences on others as we've tread ground from a communal perspective in ways no one else has. Let's take a moment to revisit the Garden's first night at the Apache Cafe with earthSista Nambi. It was chaotic. All of the plans for the night went out the window. And it was sensual. It was beautiful. These are a handful of the images of that night and although they are a part of the Garden's public blog, have care because they are NSFW. I's important to share a sense of the sensuality of the night events and things to come.
Pangea's earthSistas are having an impromptu Shooters Lounge PopUP! kickback at the new Apache in Atlanta. It's a "Do What You Like" theme where you bring what you like to shoot what you like. The Shooters Lounge is a photographers' AfroSocial. It's the opportunity to chill, eat, drink, socialize and network in between shots. Pangea's Garden will provide some lighting setups but this is a hugh space with unique urban props and graffiti walls and plenty of opportunity to create your own unique images. Feel free to bring your own props and lights to add to the experience! It will be a dynamic event where your photography will reflect your unique perspective of this creative, collective collaboration. If you are in Atlanta, join us. Click on the flyer below for more details and advanced tickets. Come and #MakeTheArt. Come #BeTheArt and #LiveYOURGardenLife.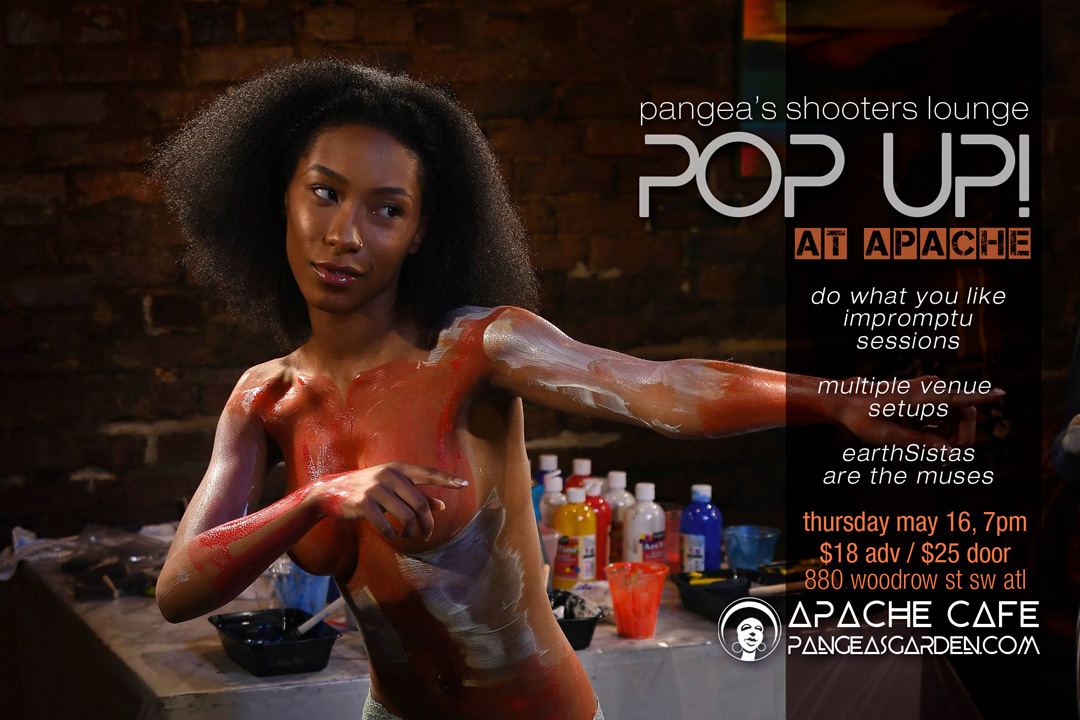 Pangea's Nature Stroll Series… The moments are unique and timeless. There is a symphony of scents and sounds as well as visions that intertwine to create and extraordinary body of stimuli. When you are there, you can't help but be inspired by God's design. this was the backdrop for the beautiful women who have all taken part in this extraordinary rich series of images that are still never ending. Momentary strolls that were reflective, imaginative, provocative and creative led to some revealing moments in which beauty both inside and out was exposed.

When it comes to art, food, fashion, health, fitness music, culture and society Pangea's Garden continues to bring you the culture that cultivates. We actively strive to be your Afrosensual nexus of ideas, images, commentary, participation and events that inspire, provoke, entertain and actively engage you. If you love what you see here and desire to see more, please consider signing up for a premium membership. It grants you access to ALL of the Garden's content and you will be one of the Cultivators of the vision that we've ALL planted & grown in Pangea.

The Afrosensual Aesthetic is the GardenVoice that pushes the limits and deepens the perspective. It is still be done from a position of respect, pride and joy, but here we will be able to explore themes that don't quite fit within the earthSista box. Its is a place for the sensual lovermakers and the premium cultivators. Check it out and share your thoughts and ideas and passions.