"I love the things that make our sisters who they are and I do my best to capture that with my lens. Shooting with me isn't so much about posing as it is about capturing a moment in time of a woman's true self. I call it the transition point. That spot when a woman goes from angel to sinner, from happy to sad, from afraid to brave."
an excerpt from Nate Tyler's Artist's Statement
Tyler's works are explorations that walk that line between art and glamour. Running the gamut from tongue-in-cheek to high drama, his images reflect levels of versatility and creativity that project his professional flexibility in the face of a wide variety of subject matter or content. He elevates the natural, afrocentric aesthetic, proving its viability in pop culture.
But he doesn't stop there. Tyler continues to push the wall, breaking boundaries to explore his artform. And while he is always quick to pay homage to those who came before and inspired him, Nate's voice is distinctive and his work already inspires some to be like him and others to be captured by him. These works are a sampling of his Artist's Statement. Check out more of his work along with full statement by clicking here.
So Nate, what's next?

---
---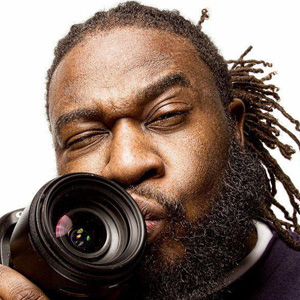 Nate Tyler is  a Washington,DC  area based photographer who relocated to the area after serving in the US. Army for six years. He is extremely passionate about photography and even more passionate about his work. Versatile and creative, Tyler is an artisan who seeks with a wide range from commercial glamour to pure art. It is his goal to provide you high quality images that I possibly can. Nate says that, through Mental Photoz, he seeks to go beyond the norm and experiment with concepts, colors, shadows, and light with the intent of creating our vision of beauty! If you aren't afraid to go against the grain then let the journey begin…
This extraordinary image of Nate is courtesy of Joseph Philbert of Philbert Photography
---

More contributors, more visions, more voices… Pangea's Garden is growing. As a result, this labor of love requires a great deal of time and expense. We are actively striving to be your Afrosensual nexus of ideas, images, commentary, participation and events that inspire, provoke, entertain and actively engage you. So consider signing up for a premium membership. It grants you access to ALL of the Garden's content and you will be one of the Cultivators of the vision that we've ALL planted & grown in Pangea.