Day of the Dead: Dia De Los Muertos (Day of the Dead) is a holiday that's celebrated in Mexico and parts of Central and South America. It's an ancestor worship holiday where family and friends gather to honor loved ones that have died. Typically festivals are held with food, music, and indigenous performances. Celebrants build private altars called ofrendas, honor the deceased using sugar skulls, marigolds, and the favorite foods and beverages of the departed, and visit graves with these as gifts. Scholars trace the origins of the modern Mexican holiday to indigenous observances dating back hundreds of years and to an Aztec festival dedicated to the goddess Mictecacihuatl. After Spanish colonization the celebration was assimilated and moved to October 31-November 2nd to coincide with the Roman Catholic festival of All Saints Eve-what we know today as Halloween.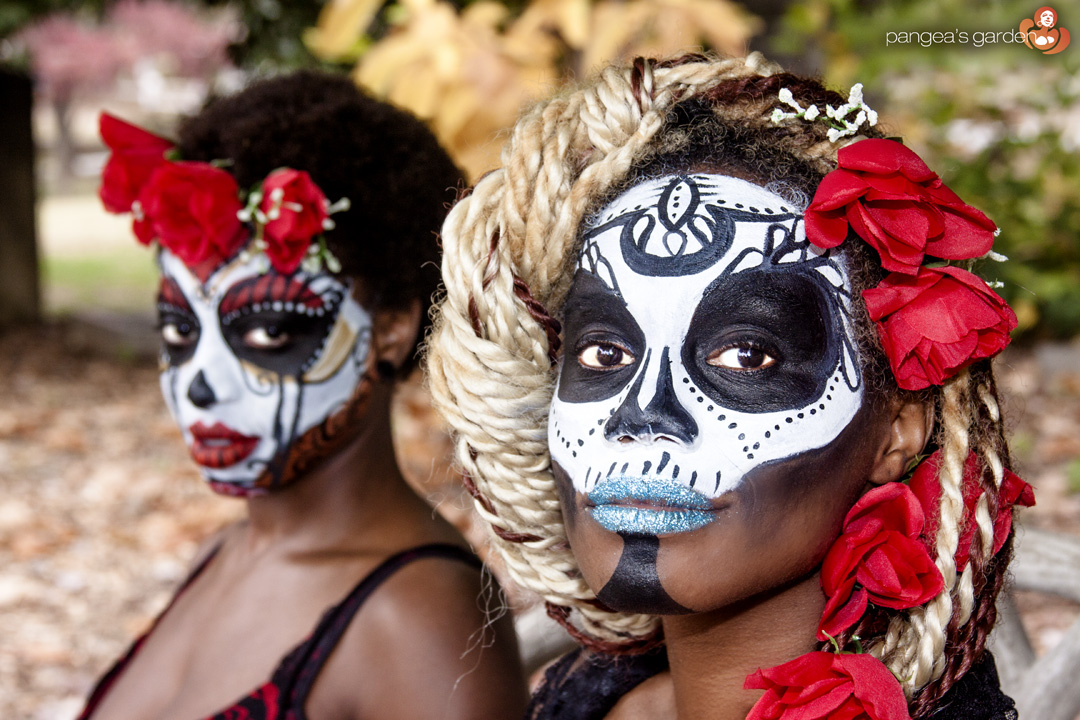 I choose Day of the Dead as a photoshoot concept because I find it to be an extremely beautiful tradition. I also choose it because ancestor worship is deeply rooted in all indigenous cultures, especially African. And I wanted to present it from an African Latin prospective, featuring beautiful Black women face painted and draped in Mexican style clothing because the African roots of Mexican culture are not often represented.
– ChrysalisSun
---
---
All of the captures from these features are from TCV Photography
---

When it comes to art, food, fashion, health, fitness music, culture and society Pangea's Garden continues to bring you the culture that cultivates. We actively strive to be your Afrosensual nexus of ideas, images, commentary, participation and events that inspire, provoke, entertain and actively engage you. If you love what you see here and desire to see more, please consider signing up for a premium membership. It grants you access to ALL of the Garden's content and you will be one of the Cultivators of the vision that we've ALL planted & grown in Pangea.

Pangea's Nature Stroll Series… The moments are unique and timeless. There is a symphony of scents and sounds as well as visions that intertwine to create and extraordinary body of stimuli. When you are there, you can't help but be inspired by God's design. this was the backdrop for the beautiful women who have all taken part in this extraordinary rich series of images that are still never ending. Momentary strolls that were reflective, imaginative, provocative and creative led to some revealing moments in which beauty both inside and out was exposed.