Pangea's Garden joined forces with Naturalopathy and Sun Goddess Jewelry to present Vintage Noir, an afrosocial cultural experience that is truly one of its kind. Guests gathered at the Sun Goddess Retreat for an intimate evening full of uninhibited sensuality and inspired artistry. The  all day event began with a vintage themed Pangea Uncensored photoshoot. VIP guests were invited to not only be spectators, but to participate in the photoshoot. Those that did, experienced special place within them that we are inspired to tap into and celebrate through creativity – their afrosensuality.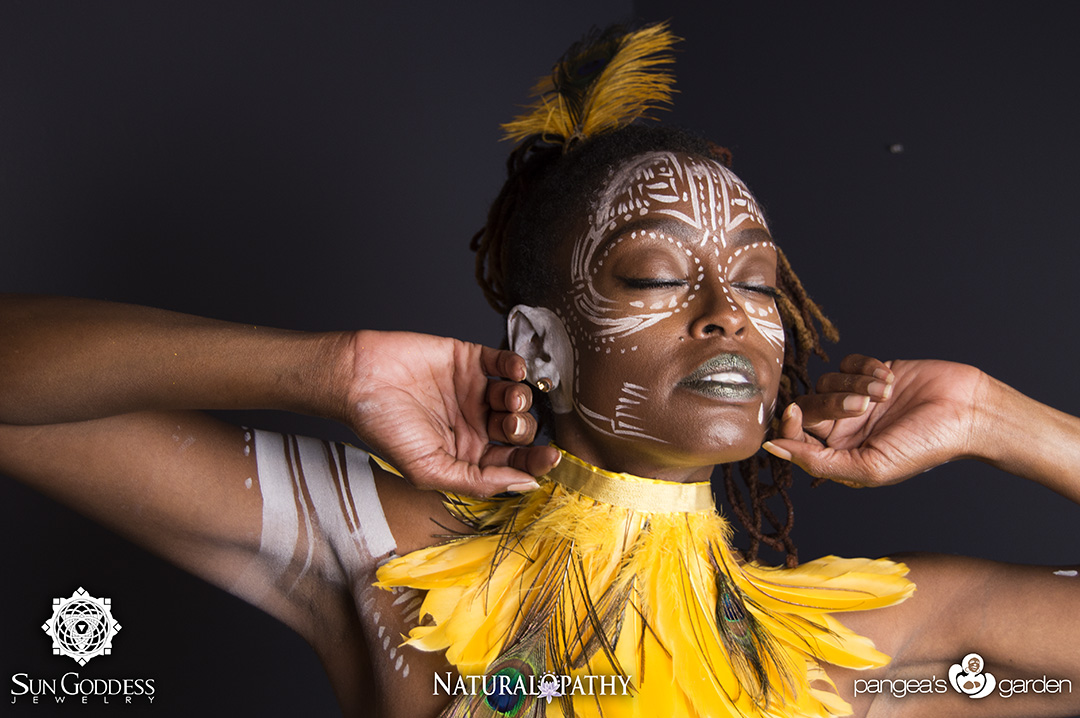 Josephine Baker was the muse of the night as EarthSistas recreated the entertainers classic look with adornments designed by Yaisa of Sun Goddess Jewelry. The looks represented a wide variety of styles and included fun embellishments such as feathers, pearls, and, of course, bananas. The result was a diverse display that ranged from classic to androgynous to afrocentric. When asked about her inspiration for the event Yaisa remarked:
Vintage Noir was a sophisticated night of artistic expression through the form of modeling, poetry, photography, and music. It's goal was to celebrate the life and beauty of of culture. By highlighting an African American female who refused to be confined and constricted by society's labels. It was a night for all to embrace freedom and nonconformity. A place without judgement. Where Beauty had no set standard.
---
---
The evening transitioned into a sophisticated party where guests were greeted with swag bags and topless EarthSistas offering jello shots. DJ Bluue kept the energy just right with smooth music and guests enjoyed complimentary dinner and an open bar. The evening entertainment, featuring performances by local artists, consisted of live music and poetry. Guests were seen dancing and socializing and everyone walked away from the event feeling inspired.Pangeas Garden looks forward to the next Vintage Noir.
---

When it comes to art, food, fashion, health, fitness music, culture and society Pangea's Garden continues to bring you the culture that cultivates. We actively strive to be your Afrosensual nexus of ideas, images, commentary, participation and events that inspire, provoke, entertain and actively engage you. If you love what you see here and desire to see more, please consider signing up for a premium membership. It grants you access to ALL of the Garden's content and you will be one of the Cultivators of the vision that we've ALL planted & grown in Pangea.

Pangea's Nature Stroll Series… The moments are unique and timeless. There is a symphony of scents and sounds as well as visions that intertwine to create and extraordinary body of stimuli. When you are there, you can't help but be inspired by God's design. this was the backdrop for the beautiful women who have all taken part in this extraordinary rich series of images that are still never ending. Momentary strolls that were reflective, imaginative, provocative and creative led to some revealing moments in which beauty both inside and out was exposed.

The Afrosensual Aesthetic is the GardenVoice that pushes the limits and deepens the perspective. It is still be done from a position of respect, pride and joy, but here we will be able to explore themes that don't quite fit within the earthSista box. Its is a place for the sensual lovermakers and the premium cultivators. Check it out and share your thoughts and ideas and passions.